Nonprofit Full Time
City: Washington DC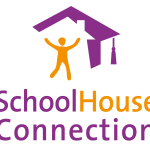 Website SchoolHouse Connection
Overcoming homelessness through education
SchoolHouse Connection –
 Youth Leadership and Scholarship Program Associate 
SchoolHouse Connection (SHC) is seeking a Program Associate to support SHC's Youth Leadership and Scholarship Program (YLS). This position is an opportunity to play a pivotal role in the evolution of the YLS program, supporting our growing cohort of scholars as they enter and proceed through post-secondary education, and assisting in the launch of a new Youth Policy Fellows Program.
The YLS Program Associate will provide case management support to a cohort of thirty SHC scholars between the ages of 17 and 21. The Associate also will assist the YLS Director in coordinating and supervising scholar trips and helping scholars meet their personal, academic, and professional needs and goals.
This is a full-time, salaried position with generous benefits. The YLS Program Associate will work remotely, as do all of SHC's employees. However, two to three trips with youth will be required per year (paid by SHC), when it is safe to travel.
SchoolHouse Connection is committed to developing a diverse and dynamic team and strongly encourages applications from people of color, people with disabilities, people with lived experience, and LGBTQ+ individuals.
Job Responsibilities
The YLS Program Associate will report to the Director of Youth Leadership and Scholarships. The YLS Program Associate is responsible for, but not limited to, the following:
Lead case management of up to thirty scholars, with support from the YLS Director and peer mentors;
Record contacts and supports provided in the YLS database;
Coordinate resources for scholars, including following internal SHC procedures to request funds, personal items, and emergency support for scholars;
Assist with content for monthly scholar newsletter;
Assist with planning and logistics for two-three scholar trips per year, including scholar travel and part;
Attend and co-lead two-three scholar trips per year, four days/nights per trip;
Participate in monthly calls with peer leaders;
Assist in developing and implementing the Youth Policy Fellows Program;
Assist in coordinating scholar involvement in policy, program, and communications; and
Coordinate youth participation in the Education Leads Home campaign.
Qualifications
The Program Associate must be reliable, responsible, and have exacting standards for her/his own work. Candidates must be able to demonstrate a strong commitment to youth development, profound respect for young people's agency and independence, and the highest ethical standards for working with youth. As this is a work-from-home position, the Program Associate must have the ability to work independently, diligently, and efficiently. We are looking for a professional, trustworthy and ambitious person, who is motivated by our mission. S/he should exemplify each of SHC's core competencies: being a strong communicator, a team player, and self-directed.
Specific required qualifications include:
Bachelor's degree (or equivalent) in social work, counseling, or a related field;
A minimum of 3 years counseling or social work experience with high school and/or college students, in particular those who have experienced homelessness or similar challenges, and those who have significant trauma backgrounds and/or mental health needs;
Demonstrated ability to communicate effectively, respectfully, truthfully, and timely with young people, including working with them to connect to needed supports appropriately;
Strong knowledge of supports available for youth, including minors and undocumented youth, and experience with the FAFSA;
Very strong interpersonal skills; the ability to build and maintain relationships with youth and young adults, as well as with staff, professionals working in high schools and institutions of higher education, and other external partners;
Discrete and respectful of young people; must be able to maintain a high level of confidentiality and must always follow through on commitments to youth;
Highest ethical standards in regard to interactions with young people, including protecting confidentiality and demonstrating respectful and appropriate behavior with youth at all times; familiarity with the values, principles and standards set forth in the National Association of Social Workers Code of Ethics and Standards for the Practice of Social Work with Adolescents;
Passionate and knowledgeable specifically about children and youth experiencing poverty and homelessness;
Strong organizational skills that reflect the ability to perform and prioritize multiple tasks seamlessly;
Ability to plan and arrange own work, including organizing, tracking, and prioritizing assignments and tasks;
The willingness and ability to build/sustain the sense of family and permanent connection SHC has established with its existing youth cohort, and to build those connections with new scholars; and
The willingness and ability to work odd hours and weekends when needed to address urgent scholar needs and to travel for scholar trips.
The successful applicant will have to undergo a background check prior to being hired, due to the nature of this position.
SchoolHouse Connection provides equal employment opportunities to all employees and applicants for employment without regard to race, color, religion, sex, national origin, age, disability, sexual orientation, gender identity or expression, genetics, or veteran status. Upon request, reasonable accommodations in the application process will be provided to individuals with disabilities.
Salary and Benefits
Salary: $50,000 – $55,000.
Benefits: Work from home; flexible work schedule; generous holiday, personal, and vacation leave; health insurance; 403(b) retirement plan; small, collegial team; many opportunities to use skills, learn, and grow professionally.
How to apply
To apply, please submit the following materials to jobs@schoolhouseconnection.org with the subject line "YLS Program Associate" by September 3, 2021. Applications will be reviewed on a rolling basis until a successful candidate is identified.
Three Materials to Submit
A current resume.
A cover letter that describes your interest in and qualifications for this specific position, including details of your experience providing counseling or social work services to high school and/or college students who have experienced homelessness or similar challenges.
Two professional references.
About SchoolHouse Connection
SHC is the nation's leading expert on the early care and education of children and youth experiencing homelessness. We provide strategic advocacy and practical assistance in partnership with early childhood programs, schools, institutions of higher education, service providers, families, and youth. Our YLS program provides financial support, long-term mentorship, and peer support to young people experiencing homelessness as they transition into post-secondary education, throughout their higher education experience, and into the workforce. Our scholars are active in all our programmatic work, as authors, public speakers, and advisers.
---
Go Back