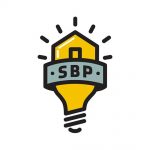 Website SBP
Shrinking the time between disaster and recovery.
Join us as an AmeriCorps member and you will develop skills in public speaking, problem-solving, and project management. While serving with SBP, you will achieve measurable results for our clients, gain leadership experience and create connections with volunteers and corporate partners. You will also receive coaching and mentorship from SBP managers that are invested in your success as a leader!
AmeriCorps members serve in communities to ensure that individuals impacted by a disaster have a safe, stable place to call home. There are several ways that AmeriCorps members help our clients return home, including: rehabilitating damaged homes, coordinating the construction process, collecting and distributing rebuilding materials, coordinating volunteer teams, and assisting clients through the application and rebuilding process.
Members serve with SBP in a variety of roles:
Project Lead: Train and coach volunteers in completing basic construction tasks on clients' homes. Celebrate volunteer impact and teach volunteers to adhere to safety protocols and procedures at project sites.
Supply & Logistics Coordinator: Coordinate the operations of SBP's warehouse and delivery system to ensure that project sites have the tools and materials needed to function in an optimal manner.
Construction Coordinator: Coordinate subcontractor schedules and monitor the progress of construction projects. Ensure that proper permits are secured for each project site.
Client Services Coordinator: Serve as the main point of contact and provide resources for the clients of SBP. Coordinate client cases, assess clients' needs, and provide referrals to clients throughout the application and rebuilding processes.
Volunteer Coordinator: Create an extraordinary volunteer experience that gets people excited about continuing their engagement with SBP. Build relationships with volunteers before their trip, welcome them when they are on their trip, and work diligently to keep them engaged once they are done volunteering.
Previous construction experience is not required. Training will be provided during the onboarding process.
Requirements: 
Be at least 17 years of age or older.
Have a high school diploma or its equivalent.
Be a citizen, national, or lawful permanent resident alien of the United States.
Benefits:
Monthly living stipend of $1,399
An additional $150 monthly housing stipend for individuals who have previously served in AmeriCorps, NCCC, or VISTA
An education award of $6,095 upon successful completion of each 10-month term and 1700 hours of service
Free limited health coverage
Child care assistance program
Eligibility to postpone repayment of federally-guarantee student loans during their service term. (The National Service Trust will also pay all or a portion of the interest that accrued during the service period.)
Valuable professional development and opportunities to further career experience
Potential opportunity to deploy in order to respond to a disaster event
---
Go Back