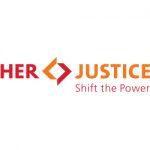 Website herjustice Her Justice
Her Justice is a nonprofit organization that provides free legal
Organization description
Her Justice is a nonprofit organization that provides free legal services in family, divorce and immigration law to low-income women living in New York City. Founded in 1993, Her Justice recruits volunteer attorneys from the City's top law firms to stand side-by-side with women who cannot afford to pay for a lawyer, giving them a real chance to obtain legal protections that transform their lives. We believe that all women with urgent safety and financial needs deserve legal representation.
Her Justice seeks a part-time undergraduate intern for the fall semester. The position requires a commitment of at least 18-20 hours per week for a minimum of 10 weeks. The position is unpaid, however Her Justice will assist interns to apply for work-study or school credit if available. All positions are based in our headquarter office located in lower Manhattan.
Position responsibilities
The Immigration Advocate Intern will work to assist the Her Justice immigration team in a variety of ways. Responsibilities will vary depending on the applicant's interests and the program needs of Her Justice. The applicant will gain skills in client interviewing and immigration casework. Responsibilities may include:
 Drafting immigration casework for work permits and U Nonimmigrants status certificates
 Translating documents such as birth certificates and informational posters.
 Conducting telephone intakes through our legal helpline
 Providing information and referrals to clients seeking assistance outside of our areas of law
 Assisting with client follow-up meetings and helping with administrative tasks
Qualifications
• Undergraduate student or recent graduate
• Good interpersonal and organizational skills, self-starter and highly motivated
• Demonstrated interest in social justice, immigrant rights, domestic violence or women's right
• Knowledge of immigration law helpful but not required
• Ability to work collaboratively and independently
• Fluency in Spanish
Apply
Please e-mail a resume and cover letter to: legal-internship@herjustice.org. Only applicants being considered for the position will be contacted by Her Justice.
Applications should be submitted by December 15th for the spring semester, May 15th for the summer, and August 30th for the fall semester. Incomplete applications will not be considered.
NOTE: Her Justice does not offer funding for its internship positions. Candidates are encouraged to apply for school credit for their internship at Her Justice, and Her Justice will assist with any necessary paperwork. Interns will gain skills in client interviewing, interpretation, foundational knowledge of immigration law and domestic violence.
For more information about Her Justice, visit www.herjustice.org.
Her Justice is an equal opportunity employer.
---
Go Back