Nonprofit Full Time
City: New York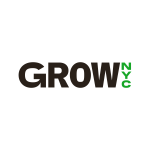 Website GrowNYC
GrowNYC is an environmental nonprofit organization.
Organization Information
GrowNYC is a 53-year-old environmental nonprofit organization helping more than 3 million New Yorkers by providing essential services and taking action to make NYC a livable city, one where every person can enjoy a healthier, more sustainable life. GrowNYC Programs include:
Our network of Greenmarkets, Farmstands, Fresh Food Box sites, and the work of GrowNYC Wholesale ensure that all New Yorkers have access to the freshest, healthiest local food.
We blanket the five boroughs with resources like food scrap and clothing collections to make waste reduction, recycling, and composting easy for all.
We build and support community and school gardens through volunteer days, technical assistance, training, grants and more.
We provide 70,000 children each year with programs that provide meaningful interactions with the natural environment.
Note to applicants on COVID safety: GrowNYC is committed to stopping the spread of Covid-19. All new hires are encouraged to take the COVID vaccine (as defined by the CDC) and we ask to submit proof to our HR department within 30 days of hire. Employees may be required to follow COVID safety protocols as the situation evolves, which may include daily health screenings, mask wearing, and other mitigation measures as deemed necessary by local conditions, mandates, and applicable guidelines.
Greenmarket Regional Manager (Full-Time)
Position Summary
Greenmarket Regional Managers ensure the successful operation of the over 45 Greenmarket sites operated by GrowNYC within the five boroughs of New York City. With support from the larger Food Access and Agriculture Program team, each  Regional Manager oversees every aspect of 12-15 individual Greenmarkets, trains  and supervises between 7-13 seasonal staff, and helps manage relationships with  80-120 individual Producers, part of the more than 200 farmers, bakers, fishers,  and others who make up the Greenmarket Producer community. The ideal candidate for this position has demonstrated people and project management experience, as well as an ability to problem solve (6 multiple issues at  once) while maintaining a level head.
Requirements
Greenmarket Regional Manager Responsibilities (Include but are not limited to):
Market Operations
Ensure that the Greenmarket sites within your assigned region operate  safely, efficiently, and effectively for both shoppers and Producers
Oversee day-to-day logistics and operations for your Greenmarket sites in  your assigned region.
Visit Greenmarket sites regularly to review operations, address issues if they  arise, and assess staff performance.
Develop, adjust, and implement site layouts and operational plans for each  Greenmarket site in your assigned region.
Enforce consistent compliance with the Greenmarket rules at all markets in  your assigned region.
Help oversee the safe operation, maintenance, and stocking of Greenmarket  vehicles.
Work with GrowNYC's Food Access team to ensure smooth SNAP/EBT  operations at market.
Coordinate, distribute, and maintain market equipment. Ensure all market  equipment and site staffing needs are being met.
Evaluate market product balance and customer demand at each of the  markets within your assigned region.
Assist with market assignments for Greenmarket Producers in your assigned  region.
Work with the Greenmarket Operations Manager to coordinate Greenmarket  Producers market reservations in your assigned region.
Market Promotions and Partnerships
Create a market outreach and promotion plan and oversee its  implementation with support from the Communications team.
Help plan weekly activities at market sites in your assigned region, including  cooking demonstrations and at-market programming.
Identify, develop, and maintain strategic relationships with community  partners – including local business, like-minded organizations, and city  agencies.
Attend Community Board meetings, NYPD Precinct meetings, or other  community gatherings to promote individual Greenmarket sites and  Greenmarket's relationships with local institutions and officials.
Oversee the management of social media at the market sites in your  assigned region, in coordination with GrowNYC's communications team.
Staff Management
Train and supervise 5-10 site leads who manage markets.
Assist in the recruiting and hiring process for seasonal staff.
Be on-call as a resource for your seasonal site lead team and the Producers at your Greenmarket sites in your assigned region.
Help with staff scheduling and be available to cover seasonal staff shifts at market sites in your assigned region.
Qualifications
Three (3) to five (5) years of work experience in project and/or operations  management, preferably in an agriculture or food-related field.
Minimum of two (2) years of experience managing staff (preferably  supervisory experience similar in scope to current Greenmarket field-based  staffing).
Creative problem-solver, able to troubleshoot and use good judgment to  make on-the-spot decisions.
Flexible approach to work, with the ability to focus on meeting emergent  needs, and adapt to continuous change.
Strong initiative and excellent time management skills, with the ability to work  independently and as part of a close-knit team.
Excellent interpersonal, organizational, written, and verbal communications skills
Proficient in Microsoft Office Suite and Google Suite.
Passion for food access and commitment to a racially and socially just food  system.
History of successfully working with people from a variety of identity groups  and backgrounds and willingness to work with people from diverse  backgrounds in terms of race, ethnicity, gender, including transgender and  nonbinary, sexual orientation, class, and religion.
A valid New York State driver's license, with a satisfactory driving record and a willingness to operate a cargo van and train staff in how to operate a cargo van.
Comfortable traveling throughout New York City and within a variety of  diverse neighborhoods.
Spanish language proficiency is ideal, but not required for this position.
Physical Requirements
Ability to lift up to 50 lbs, work outdoors, walking and standing for periods of  up to 12 hours, sometimes in extreme temperatures. Reasonable accommodation may be made to enable individuals with disabilities to  perform essential functions.
Ability to work in a potentially noisy environment.
Schedule
This position is full-time. Work hours are variable each week and each day, with a frequent need to start as early as 6 AM.  Weekend and holiday work is required. This is a hybrid role with a minimum of 2 days per week in-office. In-person field-based work and off-site travel is required.
Compensation
The full-time and exempt Regional Manager position pays $65,000 – $70,000 annually, and includes benefits (medical, dental, vision, life insurance, long-term disability, incentive savings plan, paid time off, loan forgiveness, and parental leave*) This position is managerial, not part of the bargaining unit.
Location
Greenmarket operates sites in all five boroughs – all locations are outdoors.
Applications
Qualified candidates for the Greenmarket Regional Manager position should submit a cover letter, resume, and three references. Interviews will take place on a rolling basis. Due to the volume of employment applications received, GrowNYC is unable to respond to each application individually. Applicants will be contacted directly if selected as a candidate. No phone calls or recruiters, please.
Contact
GrowNYC
P.O. Box 2327
New York, NY 10272
212-788-7900
For additional information, please see our website: grownyc.org
GrowNYC is an Affirmative Action Equal Opportunity Employer and hires without regard to race, gender, religion, age, sexual orientation or physical disability.
---
Go Back