Nonprofit Full Time
City: Saint Louis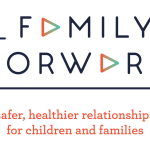 Website FamilyForward
Safer, healthier relationships for children and families.
Vision
FamilyForward leads the community in providing innovative solutions for advancing safer, healthier relationships for children and families.
Mission
FamilyForward moves vulnerable children in the direction of hope by delivering comprehensive therapeutic and educational services to support biological, foster, and adoptive families.
Core Values
Out Front: We are leaders in the use of innovative tools and methods to get better results for the children and families we serve. We prefer to set the pace, testing new ideas and collecting data; always striving to make the biggest impact we can.
Whole Hearted: We are tirelessly committed to the vision and mission of FamilyForward. We use our unique talents and expertise to serve our clients and community with compassion, acceptance, and respect.
Rock Solid: We are responsible stewards of an organization with a long and proud history of service. Reliable, trustworthy, and hard-working, we do whatever it takes to get the job done, even when no one is watching.
We Take Care of Our People
Hybrid work schedule for most positions
Competitive pay
Medical, dental, and vision coverage for you and your family
Virtual, medical and mental health care coverage included in medical insurance, and short-term disability
Flexible spending accounts
Company paid long-term disability
Company paid life insurance of 100% of employee's base pay, dependents up to $2500, spouse up to $5000
Health Reimbursement Account for deductible over $1000 for individuals, $2500 for families
Paid meal breaks
Paid time off programs
Tuition reimbursement
403(b) (with 3% company match dollar for dollar) eligible on date of hire
11 paid holidays
Neurosequential Model of Therapeutics (NMT) training/experience for all positions
Public Service Loan Forgiveness (PSLF) eligible employer
General Summary
The Human Resources Director guides and manages the overall provision of Human Resources services, policies, and programs. The position serves on the Leadership team and assists and advises agency managers on Human Resources issues. Performs as a strategic partner to the Chief Administrative Officer.
Essential Job Functions
Adhere to the ethical standards of FamilyForward and those of the specific profession.
Maintain core values standards.
Identify, recommend, and implement actions to promote and sustain a positive workplace culture.
Partner with management to communicate Human Resources policies, procedures, programs and laws.
Lead the development of department goals, objectives, and systems.
Establish departmental measurements that support the accomplishment of the agency's strategic goals.
Develop and administer programs, procedures, and guidelines to help align the workforce with the strategic goals of the agency.
Oversee and manage the work of reporting Human Resources staff.
Participate in management and staff meetings; attend other meeting and seminars as assigned.
Lead the recruiting and hiring process.
Conduct investigations when employee complaints or concerns are brought forth.
Monitor and advise managers and supervisors in the progressive discipline system of the agency.
Review, guide, and approve management recommendations for employment terminations.
Lead the development of benefit orientations and other benefits training; Recommend changes in benefits offered.
Develop in collaboration with agency leadership agency-wide HR policies
Must complete 20 hours of in-service training annually.
Additional Duties and Responsibilities
Coordinate agency use of insurance brokers, insurance carriers, pension administrators, and other outside sources.
Perform HR compliance audits and trainings quarterly.
Utilize the Human Resources Information System (HRIS) for agency recordkeeping.
Lead the annual performance appraisal process.
Lead the implementation of agency safety and health programs. Monitor the tracking of OSHA-required data.
Monitor all pay practices and systems for effectiveness and cost containment.
Lead participation in at least one salary survey per year.
Qualifications and Education Requirements
10+ years experience in Human Resources.
Bachelors degree in Human Resources, Business, or Organizational Development required.
PHR or SHRM certification preferred.
General knowledge of various employment laws and practices.
Active affiliation with appropriate Human Resources networks and organizations and ongoing community involvement preferred.
Specialized training in employment law, compensation, organizational planning, organization development, employee relations, safety, training, and preventive labor relations, a plus.
Proficiency with Microsoft Office Suites.
Familiar with Peoplesoft, ADP, Paycom or equivalent a plus.
Demonstrated ability to lead and develop Human Resources staff members.
Demonstrated ability to serve as a successful participant on the Leadership team.
Ability to work with a high sense of confidentiality.
Knowledge, Skills, and Abilities
Knowledge of agency vision, mission, and services.
Knowledge of professional office procedures
Ability to project a positive image and deal effectively with a diverse group of people.
Ability to be flexible and adapt to changing needs and time pressures.
Ability to exercise discretion and sound judgement.
Ability to disseminate information clearly and concisely.
Ability to communicate professionally with coworkers, customers, donors, and vendors.
Ability to create and sustain positive working relationships with all levels of the agency; internal and external.
Ability to develop and lead collaborative teams
Working Conditions
Normal working conditions are absent of extreme factors. Employee will remain in stationary position 50% of the time and frequently lift items up to 25 pounds or greater.
Additional Notes
The statements herein are intended to describe the general nature and level of work performed, but are not to be seen as a complete list of responsibilities, duties, and skills required of employees so classified. Also, they do not establish a contract for employment and are subject to change at the discretion of the employer.
---
Go Back