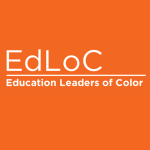 Education Leaders of Color
Reports to the Director, Network Culture and Engagement. Priority application deadline: January 3, 2022
About EdLoC
EdLoC's mission is to ensure young people of color have the supports needed to thrive, capitalize on opportunities, and build generational wealth.
We do so by ensuring that young people of color from low-income communities have access to wealth-building opportunities that enable them to break the cycle that impedes their and their families' economic prosperity over time. According to researchers from UC Davis's Center for Poverty and Inequality, "One-third to one-half of children who are poor for a substantial part of their childhood will be poor as adults," making intergenerational mobility in the United States lower than in any other developed nation in the world. EdLoC aspires to a day when living in poverty does not determine the fate of your family, generation after generation.
EdLoC's belief is that by building a network of values-aligned leaders of color and forging a third way, we can pursue the most innovative, effective, life-altering, and rapid solutions to positively impact young people of color's access to social capital. Capital that will eventually allow them to build legacy, or intergenerational, wealth.
About the Role
EdLoC is looking for a highly motivated Network Operations Manager to provide critical mission support by ensuring that all EdLoC programming and every member interaction with EdLoC's team reinforces our commitment as a member-centered organization, driving to increase wealth-building opportunities for young people of color from low-income communities.
The Network Operations Manager will hold the intel on everything related to the EdLoC member experience (engagement, satisfaction, and development needs), and you will help the organization use that intel toensure the accuracy and efficiency of membership-related operations.
Reporting to the Director Network Culture and Engagement, the Network Operations Manager will collaborate across the organization to execute EdLoC's membership strategy and will be directly responsible for the management of all data and processes related to membership recruitment, cultivation, onboarding, and retention. This position willalso oversee the operations and logistics of all member engagement events, including EdLoC 101 webinars, Affinity Group convenings, the National Convening, Boulder Fund Community Day, and other events/programs.
SpecificResponsibilities include:
Own All Aspects of the Member Lifecycle (40%)
Establish a business intelligence strategy that systematizes the gathering, reviewing, analyzing, and reporting of EdLoC membership data, including but not limited to:

Updating and maintaining membership records.
Managing recruitment and retention tracking and reports.
Collecting and analyzing current, new, and potential member information.

Serve as point person for member inquiries, including questions regarding nominations, renewals, and benefits.
Support the new member onboarding process.
Process membership payments, coordinate and maintain membership benefits, including collaborating with the appropriate team members to promote discounts and priority registrations.
Implement new member communications and programming.
Oversee, and execute as needed, the regular print and electronic communications related to an organization's membership status, renewal appeals, and invoicing.
Develop and implement strategies for retention of existing members and recruitment and cultivation of new members, including the creation of new member benefits and regular solicitation of member feedback.
Represent EdLoC with members and in the community, including speaking publicly for the organization when needed.
Manage Administrative and Operational Priorities for Events and Special Projects (30%)
Oversee the logistics of EdLoC programming, including but not limited to, recruitment and communications with speakers and presenters, venue details, program logistics, registration, and day­-of coordination.
Manage work planning and logistics for in-person member convenings, including the National Convening.
Work with lead team member (will vary by event) to determine goals for the event, and develop and manage the event workplan.
Lead analytics and reporting on members, outreach, marketing, and budget.
Support the development of event feedback surveys to ensure there is goal alignment and manage event execution accordingly.
Manage event satisfaction and other member surveys,with a focus on member service excellence, including but not limited to, coordination of our annual membership survey and ongoing program and service evaluations.
Support EdLoC's short-term consulting services for members and strategic partners, including providing relevant information and resources on request, soliciting input from staff within their areas of expertise as needed.
Promote Member Engagement (30%)
Manage, promote, and grow engagement within EdLoC Connect–a peer-to-peer online community.
CurateEdLoC's virtual resources for members.
Support the Director of Network Culture and Engagement in implementing curriculum and leadership programming.
Support EdLoC's senior team in implementing new strategic partner programs, projects, services, and programming as the need is identified and feasibility is determined.
In concert with the EdLoC's communications manager, coordinate website content and functionality to enhance membership and strategic partnership programs.
Oversee development of monthly member email newsletter.
Qualifications & Attributes
Bachelor's degree with major course work in communications, business, marketing, or related areas (preferred).
5+ years of professional experience working in an operations or data-driven capacity.
Enthusiastic about elevatingleaders of color who have demonstrated a clear and consistent impact on expanding access to wealth-building opportunities for young people of color from low-income communities.
Deadline-driven; works well in a fast-paced environment with firm deliverables.
Exceptional organizational and systems-building skills and attention to detail;ability to organize and exhibit "follow through" on tasks and goals.
Skilled in program and project management/operations.
Track record of achieving or exceeding goals within a professional environment.
Comfort and an interest in working with and manipulating large data sets and databases.
Excellent customer service across a variety of internal and external stakeholders.
Strong interpersonal skills and commitment to a high level of customer service.
Excellent written and oral communication skills.
Proficiency in Microsoft Office suite, including Excel and Power Point.
Personal qualities of integrity, credibility, and a strong work ethic.
Experience in a membership or constituent management role preferred.
The Network Operations Manager is a full-time remote position. Fully functioning home office required. Occasional travel.
Salary and Benefits
Salary for this role falls between $60,000 and $90,000, commensurate with relevant experience and qualifications.
Monthly stipends to support remote engagement.
Competitive health care benefits, including vision and dental.
Immediate 401K match of 50% up to 10% of salary.
Company-paid life insurance.
Flexible time off with a minimum of three weeks of vacation, plus all federal holidays (11 days).
---
Go Back