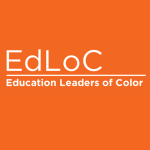 Education Leaders of Color
Reports to the Chief Executive Officer. Priority application deadline: January 3, 2022
About EdLoC
EdLoC's mission is to ensure young people of color have the supports needed to thrive, capitalize on opportunities, and build generational wealth.
We do so by ensuring that young people of color from low-income communities have access to wealth-building opportunities that enable them to break the cycle that impedes their and their families' economic prosperity over time. According to researchers from UC Davis's Center for Poverty and Inequality, "One-third to one-half of children who are poor for a substantial part of their childhood will be poor as adults," making intergenerational mobility in the United States lower than in any other developed nation in the world. EdLoC aspires to a day when living in poverty does not determine the fate of your family, generation after generation.
EdLoC's belief is that by building a network of values-aligned leaders of color and forging a third way, we can pursue the most innovative, effective, life-altering, and rapid solutions to positively impact young people of color's access to social capital. Capital that will eventually allow them to build legacy, or intergenerational, wealth.
About the Role
EdLoC is seeking a results-oriented and entrepreneurial executive who has led high-impact, organizational-, school-, or systems-wide transformational initiatives and programs to be our Chief Network Officer. We are looking for someone who is deeply passionate about economic equity and success for young people of color from low-income communities; who wants to be a part of helping a young nonprofit grow and establish national presence; and who is excited about helping leaders of color grow and do their best work.
The Chief Network Officer (CNO) is responsible for providing visible and influential leadership to members within the EdLoC network, leading the Network team and advising across strategic priorities (e.g., member engagement, political advocacy, and career advancement); creating and implementing the Network strategy; and designing the Network culture to ensure an affirming end-to-end experience for all EdLoC members. Part of the C-Suite, the CNO will contribute directly to the strategy, budget, and planning efforts of EdLoC in close collaboration with other members of the executive leadership team.
Specifically, the CNO will contribute to the advancement of EdLoC's values and thought leadership through five key functions: 1) shaping network strategy; 2) managing external partnerships; 3) catalyzing collaborative strategies; 4) expanding system and social impact investments; and 5) contributing to organizational leadership.
The ideal candidate is a seasoned executive and coach who is comfortable with and committed to fostering the development of staff. Reporting to the CEO, this position offers an exceptional opportunity to ensure a universal and personalized member experience while inspiring collaborative action towards equity-focused economic transformational policies for young people of color.
Shaping Network Strategy (30%)
Set the long-term vision, strategy development, and evolution of the EdLoC network, including broadening the membership base to include social capital and wealth-building allies, while positioning the network at the intersection of social justice as well as economic and racial equity.
Lead and manage the activities of the Network teams, ensuring an outstanding team dynamic and culture, delivering a results-driven team, and championing solidarity and inclusion across the organization.
Keep up with trends in the field and the needs of our members to shape meaningful, timely, and relevant programs that align to and advance EdLoC's mission. Identify priorities, gaps, and trends in program areas and make recommendations accordingly.
Create meaningful member engagement opportunities and measure their success by collecting and analyzing data that evaluates the effectiveness of established programs and new initiatives.
Grow membership by at least 20% each year.
Managing External Partnerships (30%)
Lead all partnerships in support of EdLoC's network services and member support.
Design, build, and grow robust relationships among key collaborators, staff, donors, community agencies, funders, and government officials.
Expand organizational capabilities to deliver values-aligned member support and offerings through strategic partnerships and collaborations.
Manage senior stakeholders who have an interest in and are impacted by field-influencing efforts to advance a national agenda for equitable systems change.
Cultivate partnerships by effectively communicating EdLoC's mission throughout the wealth-building sector and in the broader racial equity and social justice sectors.
Catalyzing Collaborative Strategies (15%)
Lead organizational efforts focused on documentation and storytelling about where member leaders and member-led organizations are successfully leading with EdLoC Third Values in the areas of socio-economic equity and wealth building.
Design strategies for communicating EdLoC's mission and status as a thought leader at the intersection of socioeconomic prosperity, racial equity, and social justice, and addressing generational poverty.
Participate in the development of key organizational materials including Op-Eds, infographics, videos, and reports to build the case for policies and practices that disrupt generational poverty.
Collaborate with the Director of Development and Donor Engagement to support fundraising campaigns, cultivate and strengthen EdLoC's funding base, and develop successful grant proposals.
Expanding System and Social Impact Investments (15%)
Lead planning and management of EdLoC's social investment initiatives with an annual budget of up to $2 million, including The Boulder Fund and Microgrant funds.
Leverage EdLoC's social capital in service of supporting EdLoC members, while amplifying the efforts of grantees and their organizations.
Engage with funders and direct-service organizations to identify and develop a suitable portfolio of project and program investments.
Ensure proper governance and financial management of the new initiative's funding commitments to comply with all company policies and compliance requirements. Develop reporting templates and ensure regular reports of initiative activities are prepared and presented to EdLoC's board and executive teams.
Build strong advocacy support from key stakeholders to effectively leverage programs as points for change to influence and shift the field.
Develop and manage an effective communications strategy that creatively shares results for optimal stakeholder alignment throughout the lifespan of each investment initiative.
Contributing to Organizational Leadership (10%)
Collaborate with the executive team to establish org-wide strategic plans, goals, and impact metrics.
Guide goal-setting processes for the Network team, ensuring an alignment between, within, and across individual, team, and org-wide goals and priorities.
Work with the Chief of Staff to create, maintain, and oversee systems and processes to ensure effective management of the daily operations of program staff and an organizational structure that supports the organization's goals.
Supervise, coach, and collaborate with program staff to ensure programmatic and team success, as well as to support the team's ongoing professional development and growth.
Develop and implement strategies that will maximize the synergies among Network team areas.
Lead annual planning and manage budgets for Network programs and projects.
Qualifications & Attributes
Bachelor's degree in Business Administration, Public Policy, Communications, or related field. Master's degree strongly preferred.
10 -15 years of senior-level experience across nonprofit, education, philanthropy, or grassroots organizations, overseeing multiple mission-driven programs, ideally at an organization or school/district serving low-income youth or communities.
Track record of success in innovative program design and implementation.
Experience managing people and teams during a growth state.
Excellent problem solver and critical thinker, who can synthesize information, ask insightful questions, think on your feet, and spot trends quickly.
Strategic and creative visionary who can take a nebulous idea, translate it into a program design, and lead a team to turn it into reality.
Creative thinker, joyful collaborator, self-starter, and detail-oriented communicator, with a positive approach, can-do attitude, and a sense of humor.
Confidence in a variety of client-facing roles–from a district Superintendent, to the director of a two-person nonprofit, to the C-suite of education consulting firms. Strong presenter and meeting facilitator, who understands how to form meaningful relationships with diverse parties and can "sell" EdLoC to others.
Experience with complex program management. From designing new initiatives to overseeing a spectrum of programs, the CNO will effectively manage projects with a variety of stakeholders, allocate resources across numerous disciplines, and calmly juggle competing priorities.
Comfortable discussing topics in a variety of service areas, including technology, marketing, financial management, and human resources.
Experience developing multi-sector partnerships that shift political power, either through social justice grantmaking, brokering or allocating government funding streams, social impact investment, or hybrids thereof; interest in transforming philanthropy and leveraging financial resources to build community leadership and power.
Commitment to working with diverse communities and finding shared goals amongst varying experiences and perspectives.
Ability to identify and implement solutions independently in a fast-paced, entrepreneurial environment, and a track record of taking responsibility when faced with challenges.
Eagerness for continuous personal development and a history of executing on feedback to improve performance.
Willingness and ability to exceed the "typical" job expectations on specific occasions (i.e. work late hours and/or weekends when project deadlines, events, or travel require it).
Capable of leveraging technology and supporting the adoption of systems. Excellent computer and technology skills, including proficiency with MS Office suite and familiarity with using databases and online project management tools; must be comfortable learning and using new technology.
Bilingual (English/Spanish) a plus.
The CNO is a full-time, remote position. Fully functioning home office required. Travel expected 20% of the time.
Salary and Benefits
Salary for this role falls between $160,000 and $200,000, commensurate with relevant experience and qualifications.
Monthly stipends to support remote engagement.
Competitive health care benefits, including vision and dental.
Immediate 401K match of 50% up to 10% of salary.
Company-paid life insurance.
Flexible time off with a minimum of three weeks of vacation, plus all federal holidays (11 days).
---
Go Back