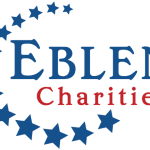 Website Eblen Charities
Position Announcement
The Board of Directors is actively seeking an Executive Director to lead the outstanding efforts of Eblen Charities, an Asheville, North Carolina non-profit that has been serving the needs of individuals and families since 1991.
For consideration, please submit a cover letter, chronological resume, and minimum salary requirements to Planning Committee member Kaye Schmidt at kayeschmidt@outlook.com on or before June 12, 2020. Please include Eblen Charities in the subject line.
Candidates who are selected for an interview will be required to sign an authorization to conduct a North Carolina and national criminal records check. Final candidates will also provide a list of work references prior to a hiring decision.
All employment decisions are made based solely on Eblen Charities' personnel requirements and the qualifications of each individual candidate. Application, hiring, management, promotion, compensation, job opportunity, termination and other job-related decisions are made without regard to a person's race, color, national origin, citizenship, religion, sex, sexual orientation, gender identity or expression, pregnancy, disability genetic information/medical history, age, and/or veteran/military status. Applicants with disabilities are welcome to apply for open positions; please notify Eblen Charities if you need a reasonable accommodation to apply.
Job Title: Executive Director
FLSA Status: Exempt
Reports To: Board of Directors
Position Type: Full Time
Classification: Regular
Directly Supervises: Deputy Director
POSITION OVERVIEW
The Executive Director is responsible for maintaining the organizational focus on the mission of Eblen Charities to help individuals and families in the service area. This will be accomplished by providing oversight and overall management, planning, vision and leadership for all aspects of Eblen Charities including programs and services, community relationships, finance, resource development, human resources, communications, and board development. The Executive Director assumes a leadership role in the community by partnering with area businesses, foundations, government officials, other nonprofits, and supporters. The Executive Director works with the Board and Board Committees to expand the reach of Eblen Charities.
RESPONSIBILITIES AND DUTIES
1. Planning and Vision
• Responsible for implementing strategic plans to ensure Eblen Charities successfully fulfills its mission.
• Works with staff and Board of Directors to develop and implement strategic plans.
• Develops, manages and communicates long-term strategic direction.
2. Programs and Client Services
• Ensures program quality and consistency with organizational goals through ongoing evaluation of all programs and services to determine consistency with organizational mission.
• Oversees development and coordination of new programs.
• Seeks, investigates, and initiates pro-active initiatives that further the mission of Eblen Charities.
3. Resource Development
• Initiates, plans and directs an innovative development program and works cooperatively with groups and individuals, to maximize effectiveness of existing and future fundraising efforts.
• Plans, implements, and evaluates fundraising development efforts to ensure short- and long-term objectives are met in the most efficient and effective manner.
• Seeks new opportunities to generate revenue and other resources to support the mission of Eblen Charities.
4. Community Relations
• Builds and maintains relationships with state and local government officials; along with, professional, civic and private organizations.
• Develops relationships with state, national and local organizations to build partnerships that support greater delivery of service to clients.
• Oversees the development of cutting-edge capacity-building initiatives, programs, and services as needed.
• Develops and maintains corporate and business relationships.
5. Communications
• Serves as the lead spokesperson for Eblen Charities and assures that the organization's mission is properly presented to various individuals and groups.
• Develops effective and ongoing relationships with media.
6. Financial Performance and Viability
• Responsible for the financial integrity of Eblen Charities and submission of annual budgets and reports to the Board of Directors.
• Ensures maximum resource utilization of funds.
• Responsible for fundraising and developing other resources necessary to support the mission of Eblen Charities.
• Responsible for the signing of all notes, agreements and other instruments made and entered into on behalf of Eblen Charities, as outlined by the Board of Directors.
EDUCATION REQUIREMENTS
Bachelor's degree
EXPERIENCE REQUIREMENTS
• Five or more years of non-profit management or other non-profit leadership experience.
• Proven experience in developing and implementing successful fundraising strategies and managing donor relations in a nonprofit organization.
• Experience in marketing, administration, fiscal oversight, and volunteer management; proven track record in developing a strong, cohesive, creative, high-performing team.
PREFERRED REQUIREMENTS
• Master's degree in a related field of study or commensurate experience as an executive in the not-for-profit industry
• CFRE (Certified Fund Raising Executive)
---
Go Back