Volunteer Position
City: Los Angeles, CA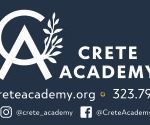 Website Crete Academy
Crete Academy delivers an educational program to students Tk-6th
Crete Academy:
Crete Academy was founded by a group of individuals passionate about creating opportunities for children living in poverty. The vision for the school developed from the Founder's life-changing experience on Skid Row, thirteen years ago. The Founder recalls watching a disconnected mother, watch her daughter crawl through the filthy streets of the city. As she observed the child crawling, she thought, "something has to change for children in these circumstances." The vision of a school that serves underserved children in impoverished communities emerged from that experience. The Founder, along with many other passionate individuals developed the Crete model.
Crete's Mission:
Crete Academy delivers an educational program to students TK-6th grade who are homeless and living in poverty. We meet their physical, mental and emotional needs while developing strong character and critical thinking skills so that each child is prepared for college and beyond.
Crete's Vision:
One day, the cycle of poverty will end and children who once were homeless and living in poverty will be leaders of this world.
Sustainability Job Description:
1. Support the goals and objectives of Crete Academy and the Business Development team with developing and initiating Crete Academy's sustainability strategy, goals, and implementation in order to ensure the safety of students and longevity of the institution.
2. Research climate resilience and mitigation strategies being implemented at other schools in LA, the U.S. and globally with the intention of establishing those best sustainability practices at Crete Academy.
3. Research and create leads for sustainability-focused funding that would support the application of Crete's climate mitigation strategies.
4. Assist the Business Development Team with other Sustainability duties that are assigned.
Intern requirements:
Available to intern part-time (10-25hrs per week). Hours are flexible with interns schedule
Hybrid Work: There will be remote work; weekly meetings at Crete's admin office or campuses; and special events.
Interest or experience in Business Development or Sustainability
---
Go Back