Nonprofit Full Time
City: Boston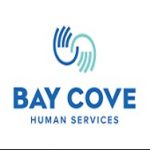 Website Bay Cove Human Services Bay Cove Human Services
Bay Cove Human Services
Boston, MA, USA
Req #462
Peer Support Worker-Peer Support Network, Bay Cove's RLC (Part Time 10 hrs/week)Bay Cove Human Services, Inc., a leading Massachusetts human services organization seeks a Peer Support Worker to join us in our mission to provide high-quality services to adults who are looking to make meaning of their own lives, process intense life experiences, and develop
connections in a supportive environment. The Peer Support Worker will work at the Peer Support Network (PSN), a Recovery Learning Center, located at 31 Bowker Street in Boston MA. We are looking for someone who utilizes lived experience of mental health or addictions recovery, trauma or extreme states in order to create environments that are supportive and foster connection. Bay Cove is looking for people who are inspired and inspiring.
You will:
-Provide Peer Support – Partake in one-to-one Peer Support as requested by PSN members via phone or in person.
-Facilitate Groups- Responsible for the facilitation of a variety of group offerings at PSN. Also will be responsible for the creation of new group offerings as necessary.
-Function as a Program Resource – Keep track of participant attendance and answer any questions directed to PSN by participants. Assist participants in locating community and online resources.
-Promote diversity and inclusion of all individuals.
-Work with a team of other peer support workers.
What you will need to bring:
-Education- High School degree or high school equivalency diploma or 1 year experience as a peer facilitator.
-Track record – Knowledge of recovery strategies, peer group facilitation, and effective listening.
-Communication skills – Effective listening skills and a willingness to share "one's own story" with individuals attending PSN.
-Computer Skills – Proficient skills in Microsoft Word, Excel, and PowerPoint.
-Conflict Resolution and Mediation Skills- demonstrated experience in evaluating all aspects of a problem or opportunity and make or facilitate appropriate and timely decisions.
-Sense of humor is essential!
Other details
Pay Type Hourly
Min Hiring Rate $14.75
---
Go Back