Nonprofit Full Time
City: Boston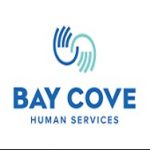 Website Bay Cove Human Services Bay Cove Human Services
Bay Cove Human Services
Boston, MA, USA Req
#459
Part-Time Peer Specialist (20 hours/week) – ACCS Team 1
Job Summary:
As a member of the ACCS multidisciplinary team, the Peer Specialist utilizes their own lived experience to support Persons in their recovery journey, serving as a mentor to Persons in their journeys torecovery and self-sufficiency. The Peer Specialist contributes to Bay Cove's mission by partnering with Persons in a relationship based on mutuality that promotes empowerment and self-learning. This is a non-exempt position.
Supervisory Responsibilities:
At the discretion of the Integrated Team Director and the ACCS Peer Coordinator.
Essential Functions of the Position:
●Engage in non-judgemental, compassionate, active listening to build one-to-one connections with Persons and share one's own personal experiences with purpose and intent to build trust and enhance collaboration with Persons.
●Orient Persons to ACCS services, explaining services, introducing them to team members, and explaining roles and procedures.
●Build and cultivate long-term non-directive and supportive relationships with designated Persons in order to provide encouragement, hope, assistance, understanding.
●Engage Persons experiencing heightened stress as a result of a life or care transition and provide short-term peer supports during this transition.
●Support Persons to connect with resources of their choosing in order to build their own support networks outside of the service system and collaborate with natural supports, families and extended support networks as requested by Persons.
●Provide Persons with the support to develop the skills for self-advocacy and self-determination and assist Persons to develop and use individualized recovery tools they find helpful such the Wellness Recovery Action Plan (WRAP).
●Lead skill-building and support groups for Persons.
●Collaborate with other Integrated Team members, as well as ACCS and agency leadership to ensure that recovery values, language, and culture are promoted and upheld.
●Participate in continuing education/skill building training and activities towards a goal of personal career development and the strengthening of Peer Support Roles as a whole.
●Conduct outreach and education to stakeholders in order to decrease stigma towards Persons in recovery, to increase awareness of the possibility of recovery, and to promote the role of Peer Support Staff.
●Perform other duties as assigned by supervisor.
Requirements for the Position:
●A Bahelor's Degree in Psychology, Social Work, or a related area preferred. High School diploma or GED required.
●Lived experience with mental health issues required. Lived experience with homelessness, poverty, or criminal justice involvement preferred.
●Current certification as a Certified Peer Specialist or eligibility, willingness, and ability to obtain certification within six months of hire.
●Demonstrated willingness and ability to share personal experiences and recovery story with the purpose and intent to build trust and collaboration with Persons.
●At least one year experience working with individuals diagnosed with co-occurring disorders or similar human service needs.
●Professional writing and oral communication skills.
●High degree of personal organization, attention to detail, and time management skills.
●Proficiency in word processing and other computer functions using Windows, Word, and Google Email and Apps.
●Use of personal cellular telephone for work communication.
●CPR and First Aid certification required within 3 months of hire.
●Ability to go up and down stairs to visit people who liveand physical capacity to assist people with mobility impairments as needed.
●Valid Government-Issued, Photo ID required.
●Valid driver's license preferred (but not required).
●Bilingual candidates are encouraged to apply, pay differential offered for candidates with fluency in certain essential
languages.
Mission Traits:
●Utilizes a flexible and responsible work style that meets evolving needs of the agency.
●Works with integrity and respects the dignity and value of all individuals.
●Exhibits mission through job knowledge, pride in work role, and advocacy.
●Promotes diversity and inclusion of all individuals.
●Works in a collaborative, compassionate manner with stakeholder/ partners
Other details
Pay Type Hourly
Min Hiring Rate $18.15
---
Go Back