Nonprofit Full Time
City: Boston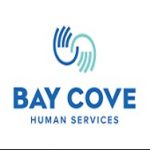 Website Bay Cove Human Services Bay Cove Human Services
Bay Cove Human Services
Boston, MA, USA
Req #191
Responsibilities:
Essential Functions of the Position: -Engage, build relationships, and empower Persons residing in the IBGLE to actively engage in services by identifying personal goals, determining motivators, and supporting individuals to improve health and wellness, strengthen self-management of symptoms, and pursue their personal goals.
Conduct and document clinical assessment, safety and treatment planning, and implementation of interventions designed to assist Persons residing at the IBGLE to assist them in build skills, achieve their goals, and move towards greater independence.
Responsively adjust the frequency, duration, and types of supports in to suit Persons' changing needs, interests, and preferences.
Actively collaborate with the IBGLE team and externally with Persons' extended treatment teams, identified and authorized natural supports, and Care -Coordination Entities in order to best support each Person.
Oversee the hiring, training, scheduling, supervision, evaluation, and progressive disciplinary action process of all program staff including training staff regarding the effective implementation of clinical interventions.
Facilitate financial and budgetary procedures including petty cash and payroll.
Maintain accurate programmatic documentation such as time sheets, fire drills, incident reports, transportation logs, daily logs, service notes, safety plans, and any other documentation assigned.
Ensure proper maintenance of the physical site in compliance with all state, federal, DMH, and Bay Cove regulations and requirements and that agency and regulatory standards are met and maintained, including inter-agency QA audits, CARF, DMH licensing, and MAP reviews.
Provide crisis assessment, prevention, and needed intervention during the work day and while on-call on nights and weekends as scheduled.
Utilize recovery-oriented language and principles in all communication and interactions with Persons, colleagues, and collateral.
Qualifications:
LICSW, LCSW, LMHC, or other behavioral health category which qualifies as a Licensed Practitioner of the Healing Arts required.
At least three years of related experience.
Training and experience in the provision of substance abuse treatment preferred.
At least one year of supervisory and management experience.
Strong commitment to the right of each Person with mental health challenges to live in community residences, to work in market jobs, and to have access to helpful, adequate, competent, and continuous supports and services of their own choosing.
Demonstrated professional communication and organizational skills.
Demonstrated expertise in developing and writing assessments and treatment plans.
Proficiency in word processing and other computer functions using Windows, Word, and Google Email and Apps.
Driving License Required? Yes
———————-
Benefits:
Excellent benefits package including health and dental insurance, 403(b) retirement plan, tuition reimbursement/remission, paid vacation & holidays, sick time pay, and employee referral bonuses.
---
Go Back