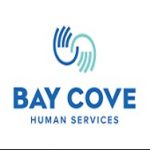 Website Bay Cove Human Services
Recognized by the Boston Globe as one of the Top Places To Work, Bay Cove Human Services is a private, not-for-profit corporation that provides a wide variety of services to individuals and their families who face the life-long challenges of developmental disabilities, aging, mental illness and drug and alcohol addiction. We have a wide variety of programs available to our clients including residential services, employment support, and day habilitation programs. Bay Cove's 2,000 highly trained employees serve more than 20,000 individuals and their families each year at more than 160 different program sites throughout Greater Boston and southeastern Massachusetts.
Requisition #10542
Assistant Program Director (Metro Boston DMH Respite, Boston)
Schedule: Monday- Friday 10a-8p
Salary: $50,000
Responsibilities:
The clinically licensed Respite Assistant Program Director supports the Program Director in overseeing clinical, rehabilitative and support services to adults in a temporary setting with a goal of entering or transitioning back to other community-based services and living arrangements.
Services are provided in a manner that cultivates resilience and supports the path of recovery for Persons Served.
Respite services are strengths-based and person-centered and are intended to support Persons Served to maintain, enter or return to stable living.
The Program Director will provide leadership to 24hour/7 day a week for site-based respite and mobile services.
This is an exempt position.
Assists the program director in providing clinical and programmatic leadership for all aspects of the Respite service, ensuring sound clinical assessments, plans and interventions to support Persons Served in returning to other community-based settings and advancing their recovery processes Assists with the referral, screening, admission and clinical assessment of Persons Served.
Assists with treatment planning, on-going clinical interventions, and discharge planning for all Persons Served in mobile and site based respite.
Carries out tasks related to the day to day operations including staff scheduling, facilitating financial and budgetary procedures (such as petty cash and payroll), and proper implementation of clinical protocols.
Ensures accurate and timely programmatic documentation such as assessments, individualized action plans, service notes, daily logs, bed registers, incident reports, safety plans, outcomes reporting, and any other documentation assigned.
Ensures that agency and regulatory standards are met and maintained, including inter-agency Quality Management audits, CARF, and MAP reviews.
Provide crisis assessment, prevention, and needed intervention during the business day and while on-call on nights and weekends as scheduled.
Provide on-call coverage on a rotating basis.
Administers medications in accordance with MAP standards and trains Persons Served in medication self-administration procedures.
Maintains effective working relationships with state facility campus police, DMH, other mental health providers, and local community resources throughout the Metro Boston community.
Qualifications:
Licensed Mental Health Professional in social work or psychology Minimum three years' experience providing services to individuals who have mental health and or substance use issues.
Driving License Required? No
Benefits:
Excellent benefits package including health and dental insurance, 403(b) retirement plan, tuition reimbursement/remission, paid vacation & holidays, sick time pay, and employee referral bonuses.
TO APPLY:
Apply online by going to https://www.baycove/org/apply/index.cfm?pid=10542.
Bay Cove Human Services, 66 Canal Street, Boston, MA 02114
Bay Cove is an Equal Opportunity/Affirmative Action Employer
---
Go Back