Nonprofit Full Time
City: Washington DC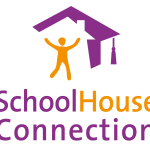 Website SchoolHouse Connection
Overcoming homelessness through education
SchoolHouse Connection – Education Initiatives Program Manager
SchoolHouse Connection (SHC) is seeking an Education Initiatives Program Manager to lead our K-12 practical assistance on the McKinney-Vento Act and related educational policies. This position is an opportunity to improve educational outcomes for children and youth experiencing homelessness.
This is a full-time, salaried position with generous benefits. The Education Initiatives Program Manager will work remotely, as do all of SHC's employees. Travel to no more than four in-person SHC team meetings per year will be required, at SHC expense, when travel is safe.
SchoolHouse Connection is committed to developing a diverse and dynamic team and strongly encourages applications from people of color, people with disabilities, people with lived experience, and LGBTQ+ individuals.
Job Responsibilities
The Education Initiatives Program Manager will report to the Director of Education Initiatives, and is responsible for, but not limited to, the following:
-Developing and delivering high-quality trainings, webinars, conference presentations, and written materials for educators, administrators, and advocates from charter and traditional public schools on the education of children and youth experiencing homelessness, including:
basic and advanced legal and practical information about the McKinney-Vento Act;
specific pandemic-related challenges, including reengaging students who left school during building closures;
identifying students experiencing homelessness;
increasing attendance of students experiencing homelessness;
increasing graduation of students experiencing homelessness;
providing mental health and trauma-informed supports to students experiencing homelessness;
tools and resources to promote racial and ethnic equity;
how these practices generate measurable outcomes for students;
optimal dissemination and use of ARP funds for students experiencing homelessness;
community collaborations, including housing collaborations; and
access to the Earned Income Tax Credit for unaccompanied homeless youth;
-Partnering with SHC's early childhood and higher education staff on initiatives related to transition into and out of K-12 education;
-Leading convenings of schools, school districts, community agencies, and service providers on the education of children and youth experiencing homelessness;
-Providing direct, practical assistance to schools and school districts to promote full and robust implementation of the McKinney-Vento Act;
-Responding to legal and practical questions from schools, school districts, states, service providers, parents and youth;
-Assisting in planning and executing Education Leads Home (ELH) 2022, a first-of-its-kind intersectional event to be held in Austin, Texas, March 6-8, 2022, as well as other conferences and convenings; and
-Building and maintaining strategic relationships with state and local educators, early childhood programs, housing and homeless service providers, researchers, and advocacy organizations.
Qualifications
The Education Initiatives Program Manager will have deep expertise on the McKinney-Vento Act and its practical implementation in schools and school districts. Applicants must be organized to a fault and detail-oriented, with strong written and oral communication skills. As this is a work-from-home position, the Education Initiatives Program Manager must have the ability to work independently, diligently, and efficiently. S/he should exemplify each of SHC's core competencies: being a strong communicator, a team player, and self-directed.
Specific required qualifications include:
At least five years of experience implementing the McKinney-Vento Act;
A track record of developing cogent, practical written materials related to K-12 homeless education practice and policy that reflect constant awareness of the larger context;
Passionate and knowledgeable specifically about children and youth experiencing poverty and homelessness;
Clear, concise public speaking and training abilities;
Experience leading convenings of schools, school districts, community agencies, and homeless service providers on the education of children and youth experiencing homelessness;
Very strong interpersonal skills; the ability to build and maintain relationships with school and district staff, community agencies, homeless service providers, youth and young adults, and other external partners;
A demonstrated ability to handle a heavy workload and achieve results, even in the face of obstacles, while displaying high standards of excellence and integrity;
Experience managing complex multiple projects;
Demonstrated ability to communicate effectively, respectfully, truthfully, and timely with young people;
Discrete and respectful of young people;
The ability to work independently and take initiative, while ensuring alignment and thriving as a collegial member of a small but mighty team.
Travel will be required when it is safe to travel. Spanish proficiency is preferred.
SchoolHouse Connection provides equal employment opportunities to all employees and applicants for employment without regard to race, color, religion, sex, national origin, age, disability, sexual orientation, gender identity or expression, genetics, or veteran status. Upon request, reasonable accommodations in the application process will be provided to individuals with disabilities.
Salary and Benefits
Salary: $55,000 – $60,000
Benefits: Work from home; flexible work schedule; generous holiday, personal, and vacation leave; health insurance; 403(b) retirement plan; small, collegial team; many opportunities to use skills, learn, and grow professionally.
How to apply
To apply, please submit the following materials to jobs@schoolhouseconnection.org with the subject line "Education Initiatives Program Manager" by September 3, 2021. Applications will be reviewed on a rolling basis until a successful candidate is identified.
Please send:
A cover letter specific to the duties and qualifications of this position;
A resume;
Two writing samples specifically related to the McKinney-Vento Act or students experiencing homelessness (may include presentations, training documents, text from websites, or outreach materials); and
At least two references.
About SchoolHouse Connection
SHC is the nation's leading expert on the early care and education of children and youth experiencing homelessness. We provide strategic advocacy and practical assistance in partnership with early childhood programs, schools, institutions of higher education, service providers, families, and youth. Our Youth Leadership and Scholarship program provides financial support, long-term mentorship, and peer support to young people experiencing homelessness as they transition into post-secondary education, throughout their higher education experience, and into the workforce. Our scholars are leaders in all our programmatic work, as authors, public speakers, and advisers.
---
Go Back